Olympus High School


Class Of 1964
In Memory
Carol Bryner (Boggess)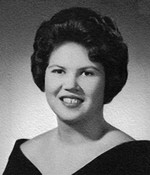 Carol Bryner-Boggess (1946 ~ 2006)
Our beloved mother, sister and friend Carol Bryner passed away peacefully on November 29th, 2006 at home with her devoted sons, Lee and Larry. She was born April 2, 1946 in Murray Utah. She grew up in the Holladay area and was the daughter of Dean and Barbara Bryner.
Survived by Steven, Dixie, Susan, Karl, Dolly, Marianne and Roger. She adored her nieces and nephews.
Carol earned her degree in education from the U of U and worked as Personal Specialist from 1976-1987.
She devoted her time to those with special needs. As a young women spent thousands of hours volunteering at the American Fork training school then teaching at the Columbus school. She had a unique ability to make everyone feel needed and loved. Her talents in crafts and gardening shined at "This is the Place" Heritage Park. Caring for the Pioneer Garden a teaching children group's, rug tying, basket weaving and quilting. Carols happiness came from sharing her many wonderful talents with others. Just a few of her favorite things: sunflowers, wolves, butterflies, pineapple shakes from iceberg and long drives to Duchesne.
She will be interned beside her parents at Holladay Memorial Park.