Olympus High School


Class Of 1964
In Memory
Stephen Blaine Bunker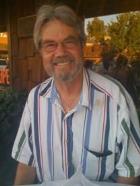 Steven Blaine Bunker (1946 - 2018)
Stephen was born on 3-28-1946 in Salt Lake City, Utah to his parents Merodean Huntsman and Owen Bunker. Stephen was deceased on 11-25-2018 due to unforeseen medical issues. He was a beloved husband, father, grandfather, brother, uncle, cousin and friend to all.
A man of many words and wisdom, Stephen was a true "man's man"! He was rugged on the outside but also sophisticated. Stephen loved the outdoors including fishing, skiing, hunting, camping, shooting guns and most of all his dog, Zipper. Stephen loved to play the piano and would serenade his family and friends. He was an expert marksman and has many recognitions for his service as a Marine Reserve during the Vietnam war. Stephen spent 6 years as a Marine and he prided himself on the time and sacrifice he made for his country. He was a true hero who was self-less when it came to his family.
Stephen is survived by his spouse Sherry Lee Bunker and kin that include: Matt Bunker, Stephanie Bunker, Willow Rapela (Marcello Rapela), Autumn Jennings (Joey Jennings) as well as Rocky Jones (Harmony Jones). Stephen had many grandchildren which were the light of his life and helped to raise and include: Olivia Ellis, Rob Bunker, Sage Rapela, Dylan Fernandez, Colton Fernandez, Daisy Fernandez, Juliana Jennings, Dallas Jennings, Dasia Jones, Dylan Jones and Deisel Jones. His legacy is left in a part of each one of these individuals as well he touched and influenced many others in the communities he lived in Salt Lake, Pahrump, Reno and the Las Vegas area.
Stephen had more will power to overcome struggles in his life than the average man which can be an inspiration to us all. Stephen was an accomplished college graduate who taught History and Biology which were truly his passion. He was also highly recognized for his career at the Nevada Test Site as a Senior Scientist and received many awards from the U.S. Government and the state of Nevada for his work. His jokes and his spirit will never be lost as it lives in each one of us.
May he rest in peace, "One Day At A Time"!!
FROM THE SALT LAKE TRIBUNE - December 19, 2018
Stephen Blaine Bunker, 72 passed away on Sunday November 25 in Henderson, NV due to complications after a routine surgery. Stephen was born on March 28th 1946 in Salt Lake City, Utah to Owen W. Bunker and Merodean Huntsman.
Stephen graduated from Olympus High School and shortly after joined the United States Marine Corps where he was recognized as an expert marksman. Stephen attended Westminster College, worked with his older brother for his printing business and later spent many, many years in the loss control insurance business which eventually lead to being hired at the Nevada Test Site as one of the lead safety professionals where he spent the rest of his career. Stephen was a devoted Husband, Father, and Grandfather and is survived by his wife Sherry, children Stephanie, Matthew, Willow ; spouse Marcello, Autumn; spouse Joey, and Rocky; spouse Harmony. Also leaving behind several Grandchildren Olivia Ellis, Robb Bunker, Sage Rapela, Dylan, Colton, and Daisy Hernandez, Dasia, Dylan and Diesel Jones along with his beloved dog Zipper. Stephen enjoyed spending time outdoors hunting, fishing, shooting, skiing in the Wasatch Mountains, golfing, riding his Harley, wandering the desert looking for ancient treasures and spending time with his family and friends.
Stephen influenced and touched many with his love, charm, stories of his own life experiences, many, many jokes and sayings along with a unique kind of wisdom he always shared with each and every one special in his life along the way. This will live on and be passed on for generations.
Funeral services will be held in Fillmore, Utah and will be available at a later date or contact Matthew Bunker for more details.
http://obits.dignitymemorial.com/dignity-memorial/obituary.aspx?n=Stephen-Bunker&lc=1009&pid=190862602&mid=8072323&fbclid=IwAR3f_UvF2ZrDv7kz2lzssp9yJG