Olympus High School


Class Of 1964
In Memory
Darryl (Jack) Campbell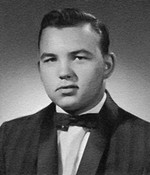 Darryl Ray Campbell (1946 ~ 2011)
Darryl our beloved husband, father, grandfather, brother, uncle and friend, passed from this life on May 28, 2011 in Herriman, UT after a short struggle with pancreatic cancer. Darryl was born January 29 1946 in Salt lake City, Utah the son of James Alvin and Flora Owens Campbell. He was the second of five children. He attended elementary school in Buhl, Idaho, secondary schools within the Granite School District and graduated in 1964 from Olympus High.
Darryl was a member of The Church of Jesus Christ of Latter-day Saints, he held several callings within the church throughout his life. Darryl served an LDS mission from 1965 to 1967 in Northern California. He married Debra Anderson on September 5 1969 in the Salt Lake Temple.
Darryl loved snowmobiling, drawing, watching sports and spending time with his family. Darryl was very loved and will be greatly missed by all who knew him.
Darryl is survived by his wife Debra and four children: Julianne Campbell; Laurie (Cory) Kikel; Jenilynn (Terry) Sorensen; Brett (Angie) Campbell. He was blessed with 11 grandchildren. Darryl is also survived by his siblings: Dennis (Vie); Ron (Cheryl) ; Randy (Beth); Jolene (Randy) Wightman.
Funeral services will be held on Thursday, June 2nd at 11:00 a.m. at Larkin Sunset Gardens Chapel 1950 E. 10600 S. Sandy, Utah. Viewing will be held at the same location on Wednesday June 1st from 6 p.m. to 8 p.m. and on June 2nd one hour prior to the funeral service. Interment at same location. Special thanks to our Intermountain Home Hospice Care Team. -
See more at: http://www.legacy.com/obituaries/saltlaketribune/obituary.aspx?n=darryl-campbell&pid=151341418#sthash.W8LPikWV.dpuf