Olympus High School


Class Of 1964
In Memory
Brent Coon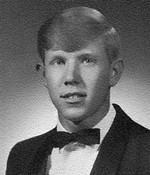 A. Brent Coon (1946 ~ 2005)
A. Brent Coon, 58, of The Woodlands, TX passed away March 16, 2005. Brent was born in Salt Lake City, Utah on June 11, 1946 and has been a longtime resident of Texas.
He is survived by his loving wife Billie Sue and his daughters, Stephanie Kelly, Brittney, Brigette and Brooke Coon; step-daughter, Billie Sue Curtice; mother, Della May Coon; brother, Owen Wayne Coon and wife Kathleen; granddaughter, Kloe Curtice along with four nephews, numerous friends and relatives.
Visitation will be 4-6 p.m., Sat., March 19, 2005 with a Celebration of Life 2 p.m., Sun., March 20, 2005 in the chapel of Forest Park The Woodlands Funeral Home. Entombment will follow in the Mausoleum at Forest Park The Woodlands Cemetery.