Olympus High School


Class Of 1964
In Memory
Kathy Lattin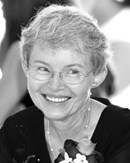 Kathy Lattin (1946 - 2018)
In Loving Memory
Kathy Lattin passed away Saturday, July 14. She was 72 years old.

Kathy grew up in the "perfect spot." She was a lifelong East Millcreek resident, attending the old Sherman Elementary School, Evergreen and Wasatch Junior Highs, and Olympus High School.

Over the years Kathy wore many hats - gorilla-mask assembler, phone operator, librarian assistant, newspaper carrier, playground duty monitor, poinsettia distributor, bag designer, cashier, hospital unit clerk, fuller brush salesperson, substitute teacher, and teacher's aid. Her longest stints were as the neighborhood Avon lady, the intimate apparel section head at Canyon Rim Fred Meyer/Smith's Marketplace, and as loving mother to her five children.

Kathy is survived by children: Jennifer Lattin, Jonathan (Kristyl) Harrison, Jessica (Jared) Whiting, Joshua (Relissa) Harrison; sister Christine (Bruce) Hamilton; 12 grandchildren; and 3 great-grandchildren. She was preceded in death by parents Thomas Lattin and Virginia (Bill) Lattin-Mason; son Jacob Harrison; son-in-law Mark Zuno.

Kathy's family would like to thank Kathy's doctors, Margaret Lunt and Greg Goodman, and their respective staffs. Gratitude is also extended to the TICU and Cardiovascular and Inpatient CV Rehab teams at Intermountain Medical Center for meticulous and thoughtful care.

In lieu of flowers Kathy asked that you sit in your yard, eat some chocolate - or a Creamie - and read a good book.

A memorial service will be held at 11 a.m. on Friday, July 20, 2018, at Wasatch Lawn Memorial, 3401 S. Highland Drive, Salt Lake City. Friends may call prior to the service from 10-10:50 a.m.
Published in Salt Lake Tribune on July 18, 2018
http://www.legacy.com/obituaries/saltlaketribune/obituary.aspx?n=kathy-lattin&pid=189615162&fhid=11609