Olympus High School


Class Of 1964
In Memory
Steve Maynes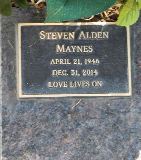 Steve Alden Maynes (1946-2014)
Steve passed away on New Years Eve of 2014 (12/31/2014), our fiftieth reunion year. Steve's cause of death was throat cancer. He is buried at the Cloverdate Memorial Park in Boise, ID. He registered on our class website in 2014 and listed his home as Meridian, ID.
Don Jensen found the above information and left the following tribute. Many thanks!
Steve and I were best friends since I moved into his neighborhood at age 12. We'd get into all kinds of trouble: lighting fires in the field behind my home and watching the fire department put them out; floating war surplus rubber rafts down the canal below our home and getting stuck under driveways; smoking those long fibrous pods that grow on trees; trying to make black powder with charcoal, sulfur and salt peter; you name it. I remember how he and Monte Tate and I rode our bikes to East High School 3 times a week during the summer after 9th grade to take a driver's education class from our bishop so that we could get our drivers licenses a few months earlier. I worked with Steve for his dad a couple of high school summers framing houses and apartments he was building. What fun. Steve left school early but we hooked up together again after my LDS mission and I worked with him for his uncle as an ornamental wrought iron fabricator and installer for several years part time in college and summers. We also worked at 2-3 other steel plants in the valley as welders and welders helpers. After I graduated law school and joined the Army I lost track of Steve except for attending his mother's funeral shortly after I moved back to Utah in 1993. At the time of our 50th reunion I tracked him down to see if he was coming to the reunion. He said that he had developed throat cancer and had to undergo chemo and radiation and couldn't make it. I find that he died that December 31, in his home in Meridian Idaho. No obituary was available from the Cloverdale Funeral Home in Boise. I miss you Steve.