Olympus High School


Class Of 1964
In Memory
Jeff Rex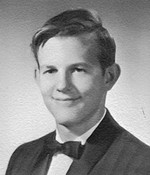 Jeff
Rex (1945 - 2010)
Jeffrey Haycock Rex passed away July 15, 2010 in Escalante. He was born April 8, 1945 in Salt Lake City, Utah to Harold Morgan Rex and Diania Haycock. His brothers are John, deceased, (Deann) of St. George; Judd (Cindy) of Yorba Linda, Ca; JB (Francene) of Leeds; his sister, Yara (Wayne Selph) of Riverton.
The first five years of his life were spent in Brazil where his father was serving as mission president. His father subsequently served as a Foreign Service diplomat and took his family all over the world. Jeff learned to love sailing while living in Trinidad. He also lived in Bolivia, Paraguay, Libya, Colombia, and Peru.
He returned to the states for his last two years of high school where he graduated from Olympus High, BYU, and then received a Master's Degree in International Management from Thunderbird in Glendale, Arizona. Between schooling he also served a mission for the LDS church in Brazil from 65'-67'.
He married his sister's roommate, Joette Marie Eck in the Oakland, California Temple on September 12, 1968. They are the parents of eight wonderful children: Jeffrey Aaron (Kim Rowland) Rex, Diania Noelle (Steve) Olpin, April Marie Rex, Jared Joseph Rex (deceased, 1990), Precia Joette (Sebastian) Tatum, Adam Morgan (Kristen Haering) Rex, Spencer Wallace (Ashley Partridge) Rex, and Austin Jared Rex. He was a loving grandfather to 11 grandchildren.
He loved his family, boating, flying, machinery, road trips, Southern Utah and serving others. He also had a deep abiding passion for ice cream. He was a conscientious worker and taught his children the same. He also served willingly and faithfully in the LDS church in several capacities including bishop of the Narragansett, RI ward and the Escalante 1st Ward.
His life's work was in the printing industry and took him all over the world, but he was an expert at finding ways for his family and extended family to play together. This ultimately led to the purchase of property and a summer home in Escalante. That spot became such a gathering place that he moved his family there permanently in 2000. In 2003 he became enamored with the idea of building a bed and breakfast.
The Slot Canyons Inn opened in 2006. Shortly thereafter he was diagnosed with Lewy Body Disease. The disease stole his memory but not his warm heart and happy spirit. He passed away at his home July 15, 2010 in the arms of his loving wife.