Olympus High School


Class Of 1964
In Memory
Lawry Richards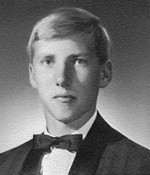 Lawrence Mark Richards II (1946 ~ 2009)
Lawrence "Lawry" Mark Richards II, passed away surrounded by loved ones in his home on Wed., October 7, 2009 in Holladay, Utah, due to a long term battle with cancer. Lawry was born on May 17, 1946 in Holladay, Utah to Lawrence Mark Richards and Margaret Reid. He served faithfully as an LDS missionary in the Canadian Ontario Mission. Lawry married his wife, Loni, on June 30, 1972 in the Salt Lake City Temple. He made his home in Utah's Salt Lake Valley and Laguna Niguel, California, where he made many long lasting friendships.
Lawry's love for his family was always his top priority in life. He always said that his greatest accomplishment was raising and providing for his four children and caring for his sweet wife. He was a faithful member of the LDS Church and actively contributed when called upon. Lawry enjoyed designing and building furniture for his home, sanding and polishing wooden blocks for his grandkids, or carving out the perfect pinewood derby car for his sons. He also loved collecting and listening to classical music. As an excellent pianist, he was always called upon to play the organ at church. Lawry's other interests included: sports, coaching, cooking and spending time with his family.
Lawry is survived by his wife of 37 years, Yolanda "Loni" Lucero; his four sons and their wives: Adam and Yoko Richards, Brandon and Alee Richards, Mark and Shellie Richards, Jordan Spencer Richards; his mother, three sisters, and one brother; and nine wonderful grandkids. He is reuniting in Heaven with his twin sons, Benjamin and Zachary; his father Lawrence Mark Richards; his mother-in-law, Emma Lucero; and other friends and loved ones. Lawry touched the lives of everyone he met. We will love him forever.
Funeral Services will be held on Mon., October 12, 2009 11:00 a.m., at the Murray 24th Ward, 755 East Three Fountains Drive (5010 South). Friends may visit with the family on Sunday evening October 11, 2009 from 6:00 p.m. to 8:00 p.m. at the Holbrook Mortuary, 3251 South 2300 East, and at the church on Monday morning from 9:30 a.m. to 10:40 a.m. prior to services. Interment: Holladay Memorial Park.