Olympus High School


Class Of 1964
In Memory
Bob Stewart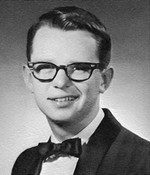 Robert B. Stewart (1946 - 2007)
Bob Stewart "Stew", (Raspberry Bob) age 60, passed away March 23, 2007 in Salt Lake City, Utah. He was born April 10, 1946 to Alex and Margaret Stewart.
He was lifelong resident of Salt Lake, graduating from Libby Edward Elementary and Granite High School. He earned a Political Science degree from the University of Utah.
Stew spent most of his career at Raspberry Records and Starbound Records, and will be remembered by many for his unparalleled knowledge of recordings and the music industry, and for his creative marketing ideas. He was exceptionally hard working and dedicated to the success of those businesses.
He was well traveled and was the consummate traveler. He thoroughly prepared for each adventure, studying the history and culture of each location and endeavored to learn more about his own family history in the process. He often returned from his travels with stories of encounters with distant relatives whom he "just happened to run into."
Stew will fondly be remembered for his dedication to his parents, always putting their needs above his own, and providing exceptional care during their final years. He was the quintessential son, brother, friend and neighbor, and was always quick to lend a hand to those in need. He was often found visiting and giving aid to the elderly, and continually boosting their spirits. He had a wonderful sense of humor and a quick wit.
Survived by his brother, Mike of Arroyo Grande, California, uncles Bryan Espencheid and Jack Winder, cousin David Erickson, and a host of friends, neighbors and customers who will miss him dearly. A graveside service will be held at 12 noon, Saturday, March 31, 2007 at the Elysian Gardens (1075 East 4580 South, Salt Lake City. In lieu of flowers, contributions in Stew's name may be made to the American Cancer Society, the Humane Society or your favorite charity. Online condolences at larkinmortuary.com