Olympus High School


Class Of 1964
In Memory
Jean Stockman (McGean)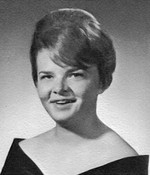 Jean Stockman (McGean) (1946 - 2002)
Jean LaRee Stockman was born July 18, 1946 in Coalville, Summit County, Utah, daughter of Donald Gail Stockman and Melva LaRee Vernon. She married Patrick Hugh McGean January 31, 1969 in Salt Lake City, Utah.
She spent her life in service to others, and worked for many years at Sam Wellers Bookstore in downtown Salt Lake City. She lived with her mother Melva and sister Lynne for many years.
She died May 31, 2002 of cancer and is buried in Wanship, Utah.
A very nice tribute to Jean is on the American Booksellers site.
http://www.bookweb.org/news/jean-mcgean-longtime-utah-bookseller-remembered
Here is an excerpt...
Ron Priddis, editor of Signature Books in Salt Lake City, enjoyed a unique relationship beyond books with Jean, sharing nights at the opera and dinners, which she rarely spent with publishers' representatives. Ron recalled, "I liked her eclectic tastes. In fact, she was all over the map, and you couldn't begin to pigeonhole her. Off the top of my head, I know she liked opera, basketball, needlework, murder mysteries, stuffed animals, and good restaurants." Ron marveled at the times Jean's encyclopedic memory served to put the right book in a customer's hands. "I wanted to find the poem, 'Stop All The Clocks,' by Auden, and couldn't find it in any anthologies. When I called Jean, she immediately knew where it could be found and put a copy of the book on hold for me. In my mind, as I think of Jean's death -- which is hard for me to accept -- I think of the words to that poem and hear La Boheme playing in the background."
Ron Priddis, editor of Signature Books in Salt Lake City, enjoyed a unique relationship beyond books with Jean, sharing nights at the opera and dinners, which she rarely spent with publishers' representatives. Ron recalled, "I liked her eclectic tastes. In fact, she was all over the map, and you couldn't begin to pigeonhole her. Off the top of my head, I know she liked opera, basketball, needlework, murder mysteries, stuffed animals, and good restaurants." Ron marveled at the times Jean's encyclopedic memory served to put the right book in a customer's hands. "I wanted to find the poem, 'Stop All The Clocks,' by Auden, and couldn't find it in any anthologies. When I called Jean, she immediately knew where it could be found and put a copy of the book on hold for me. In my mind, as I think of Jean's death -- which is hard for me to accept -- I think of the words to that poem and hear La Boheme playing in the background." - See more at: http://www.bookweb.org/news/jean-mcgean-longtime-utah-bookseller-remembered#sthash.YebJNZ9J.dpuf
Ron Priddis, editor of Signature Books in Salt Lake City, enjoyed a unique relationship beyond books with Jean, sharing nights at the opera and dinners, which she rarely spent with publishers' representatives. Ron recalled, "I liked her eclectic tastes. In fact, she was all over the map, and you couldn't begin to pigeonhole her. Off the top of my head, I know she liked opera, basketball, needlework, murder mysteries, stuffed animals, and good restaurants." Ron marveled at the times Jean's encyclopedic memory served to put the right book in a customer's hands. "I wanted to find the poem, 'Stop All The Clocks,' by Auden, and couldn't find it in any anthologies. When I called Jean, she immediately knew where it could be found and put a copy of the book on hold for me. In my mind, as I think of Jean's death -- which is hard for me to accept -- I think of the words to that poem and hear La Boheme playing in the background." - See more at: http://www.bookweb.org/news/jean-mcgean-longtime-utah-bookseller-remembered#sthash.YebJNZ9J.dpuf
Ron Priddis, editor of Signature Books in Salt Lake City, enjoyed a unique relationship beyond books with Jean, sharing nights at the opera and dinners, which she rarely spent with publishers' representatives. Ron recalled, "I liked her eclectic tastes. In fact, she was all over the map, and you couldn't begin to pigeonhole her. Off the top of my head, I know she liked opera, basketball, needlework, murder mysteries, stuffed animals, and good restaurants." Ron marveled at the times Jean's encyclopedic memory served to put the right book in a customer's hands. "I wanted to find the poem, 'Stop All The Clocks,' by Auden, and couldn't find it in any anthologies. When I called Jean, she immediately knew where it could be found and put a copy of the book on hold for me. In my mind, as I think of Jean's death -- which is hard for me to accept -- I think of the words to that poem and hear La Boheme playing in the background." - See more at: http://www.bookweb.org/news/jean-mcgean-longtime-utah-bookseller-remembered#sthash.YebJNZ9J.dpuf
Ron Priddis, editor of Signature Books in Salt Lake City, enjoyed a unique relationship beyond books with Jean, sharing nights at the opera and dinners, which she rarely spent with publishers' representatives. Ron recalled, "I liked her eclectic tastes. In fact, she was all over the map, and you couldn't begin to pigeonhole her. Off the top of my head, I know she liked opera, basketball, needlework, murder mysteries, stuffed animals, and good restaurants." Ron marveled at the times Jean's encyclopedic memory served to put the right book in a customer's hands. "I wanted to find the poem, 'Stop All The Clocks,' by Auden, and couldn't find it in any anthologies. When I called Jean, she immediately knew where it could be found and put a copy of the book on hold for me. In my mind, as I think of Jean's death -- which is hard for me to accept -- I think of the words to that poem and hear La Boheme playing in the background." - See more at: http://www.bookweb.org/news/jean-mcgean-longtime-utah-bookseller-remembered#sthash.YebJNZ9J.dpuf
Ron Priddis, editor of Signature Books in Salt Lake City, enjoyed a unique relationship beyond books with Jean, sharing nights at the opera and dinners, which she rarely spent with publishers' representatives. Ron recalled, "I liked her eclectic tastes. In fact, she was all over the map, and you couldn't begin to pigeonhole her. Off the top of my head, I know she liked opera, basketball, needlework, murder mysteries, stuffed animals, and good restaurants." Ron marveled at the times Jean's encyclopedic memory served to put the right book in a customer's hands. "I wanted to find the poem, 'Stop All The Clocks,' by Auden, and couldn't find it in any anthologies. When I called Jean, she immediately knew where it could be found and put a copy of the book on hold for me. In my mind, as I think of Jean's death -- which is hard for me to accept -- I think of the words to that poem and hear La Boheme playing in the background." - See more at: http://www.bookweb.org/news/jean-mcgean-longtime-utah-bookseller-remembered#sthash.YebJNZ9J.dpuf