Olympus High School


Class Of 1964
In Memory
Tamera Walker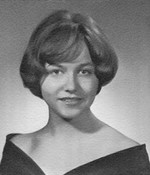 Tamera Walker Jones (1946 - 1995)
Tamera Walker Jones, daughter of Howard and Verla Walker, died March 17, 1995 at her home. She was 48. She had battled multiple sclerosis for years.
She was born September 17, 1946 in Vernal, Utah and graduated from Brigham Young University in 1969. She married Bruce David Jones of Salt Lake City, Utah April 5, 1971, and moved to New Jersey the same year. Tamera was a member of the Church of Jesus Christ of Latter-Day Saints, and has been active all her life. She had held a number of positions in the church, including, Young Women's President, Road Show Director, Relief Society teacher, Seminary teacher, Cub Pack leader, Primary worker, Activities Committee, as well as a Visiting Teacher.
Survived by her husband, Bruce David, three daughters, Amanda, of Provo, Utah; Stacie and Lauren, living at home; three sons, Parker, attending the University of Utah; Nathan and David, also at home; parents, listed above, brothers and sisters include: Blaine, Beverly, Mark Russell, Valerie, Allen and Connie.
Funeral arrangements by Bailey Funeral Home, Mendham, New Jersey and Olpin Funeral Home in Heber City, Utah. Burial plans are for the Midway City Cemetery. Services will be held at the Church of Jesus Christ of Latter-Day Saints, 265 James St., Morristown, New Jersey at 1 p.m., Monday, March 20. Viewing at the church 12-1. In Utah, the services will be held at the Midway Stake Center, Midway, Utah on Wednesday, March 22, 12 noon, with viewing at 11 a.m. In lieu of flowers the family requests donations be made to Northern New Jersey Chapter of Multiple Sclerosis, 14 Ridgedale Ave., Cedar Knolls, New Jersey 07927.