Olympus High School


Class Of 1964
In Memory
Steve Woodbury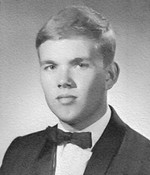 Steve died in a car crash going up Lambs Canyon. He was in a convertible sports car on the passenger side. They pulled around a slow moving trailer as a horse ran in front of them. The horse landed on top of Steve and he passed away the next day.
Obituary
J. Stephen Woodbury (1946 - 1970)
Funeral services for Joseph Stephen Woodbury, 24, 2497 - 15th East, who died Aug. 8, 1970 at a Salt Lake hospial of injuries received in an automobile accident Aug. 7, 1970, will be held Tuesday noon in the University of Utah LDS Institute of Religion, southeast chapel, 1800 Hempstead Rd.
Born May 28, 1946, Salt Lake City to Joseph C. and Lila A Austin Woodbury. Member LDS Church; filled Denmark Mission, 1965-1968; assistan to mission president. Member, Mormon Tabernacle Choir, Senior University of Utah. Senior member U of U acapella choir. Member, National Honor Society. Junior Achievement Award winner. University freshman class officer. Olympus High School class officer.
Survivors: parents; sister, Vicki Lyn. all Seattle; grandparents, Mrs. Louise C. Woodbury, Salt Lake City; Mrs. Beatrice E. Austin, San Francisco. Calif.
Friends call Larkin Mortuary, Monday 6-8 pm. Burial, Holladay Memorial Gardens