Olympus High School


Class Of 1964
In Memory
Richard Yardley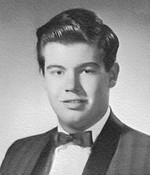 Dick Yardley (1945 - 2006)
Sandra Rabiger VanDam believes Richard passed away in Morgan, UT on April 7, 2006. He was born on Sep 19, 1945.
This memoriam together with the above picture appeared in the Deseret News in 2009:
(Thanks to Dan Maxwell for finding it.)
Oh, my love... my darlin'... I've hungered for your touch... a long lonely time. The day your big heart stopped beating, part of mine did too. The part that loves our children and grandchildren must be the only reason it beats on. We cry when we think of the good times we might have enjoyed in the UQHA with our grandchildren. I took your place at Krista's side at her wedding, shortly after her college graduation. I emerged from the fog of your loss because of Stacie, Brandon, Bailie, and Cambrie. Now you are mentoring in heaven, little spirits yet to come. We miss you terribly, still love you deeply. We know your hands are not idle. We can only imagine what awaits us come our turn to join you. Happy belated 64th birthday.
Love, Your Family
Published in Deseret News on Sept. 23, 2009
If you have more details or an obituary, please pass the information on to Harvey Cahoon.