Olympus High School


Class Of 1964
In Memory
Ted Held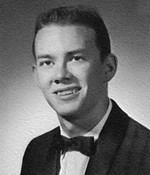 Ted Held (1946 - 1965)
Robert Brinkman reports that he and Bob Stewart attended Ted's funeral.
Obituary from Salt Lake Tribune
Rites to Eulogize Utah Youth Killed in Crash
Requiem Mass for Theodore Byng Held, 19, Salt Lake City, who was killed Saturday at 10:00 a.m. in a collision of a school bus and a car south of Laverne, Oklahoma, will be celebrated Wednesday at 10:00 a.m. in St. Vincent Catholic Church, 4893 Wasatch Dr., Murray.
Mr. Held was born July 10, 1946, in Salt Lake City, the son of Joseph "Byng" Held Jr. and Helen McGean Held. He was a graduate of Olympus High School where he won honors in debate. He was awarded a scholarship to New College, Sarasota, Fla.
He was a former employee of The Salt Lake Tribune. Mr. Held, at the time of the accident, was on his way back to school after a summer vacation.
He is survived by his parents, Salt Lake City; brothers and sisters: Mrs. Ann Griffin, Natal, Brazil; Susan Jo Held, San Francisco; Mary Cecilia Held, Ardmore, Okla.; Joseph III, James Paul and John Stephen Held, all of Salt Lake City.