Olympus High School


Class Of 1964
In Memory
Jim (The Rod) Roderick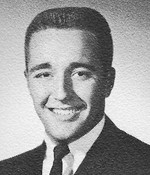 Jim Roderick (1945 - 2010)
Jim "THE ROD" Roderick was born 9/4/1945 and passed 9/9/2010. James Carmean Roderick of South Jordan, Utah died in an accident outside of Nephi, UT. "The Rod" graduated from Olympus High School and LDS Business College. He had a successful career in the automotive business for over thirty years, the majority of which was spent at Gus Paulos Chevrolet.
Jim had a true zest for life and was known for being the "life of the party." He enjoyed playing golf, skiing, boating, traveling and most of all being with his friends.
Jim is survived by his loving wife, Kathryn, his sister Maryann Jex (Gordon), his five children, Jim Roderick, Jr. (Abbie), Melanie VanderHoeven (Paul), Travis Roderick, Heather Stevenson (Travis), Tony Roderick (Mandy), his twelve grandchildren and two step-children Sarah Vowell (Simon) and Steven Fitzwater.
Jim is preceded in death by his mother and father, Mary and William Cairns Roderick, and his brother William Carmean Roderick. He will be truly missed by all.
Funeral services will be held on Friday, September 17, 2010 at 2:00 pm at Jenkins-Soffe South Valley 1007 W. South Jordan Pkwy. (10600 S) South Jordan, UT where a viewing will be held from 12:00 - 1:45 pm. Interment Holladay Memorial Park. Online condolences and directions at www.jenkins-soffe.com In lieu of flowers, and in honor of Jim please donate to the Kidney Foundation at http://www.kidneyut.org/donation.php
Published in Deseret News on Sept. 14, 2010
See more at: http://www.legacy.com/obituaries/deseretnews/obituary.aspx?pid=145333713#sthash.yfkR5IIK.dpuf